Go Solar With NO Panels
GUARANTEED SAVINGS OF 10%-30% EVERY MONTH
FOR 20 YEARS!
Community Solar is a state-run program that offers utility customers (homeowners AND renters)

all the environmental benefits of going solar, but with:
No switching energy suppliers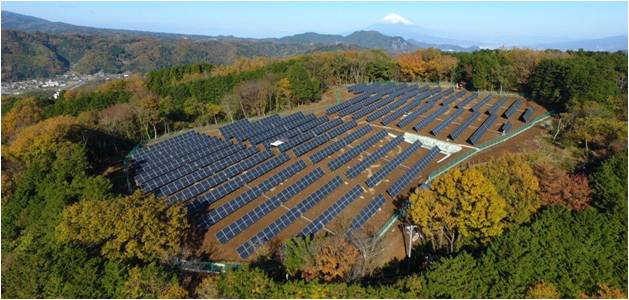 It doesn't matter if you own or rent; have good credit or none at all…
Community Solar allows you to get all the environmental benefits of going solar while reducing your utility expenses! And without the cost or hassle of installing solar panels!
The only requirement for eligibility is whether your state and utility company participate. Click the blue button below to find out if you're eligible!
How Community Solar Works
After you enroll in a Community Solar project in your utility market:

1. Solar energy from the solar farm is sent to your utility company's power grid.

2. Your utility company delivers energy to your home, just as they always have.

3. Solar credits will be applied directly on your utility bill, and you'll enjoy a guaranteed savings!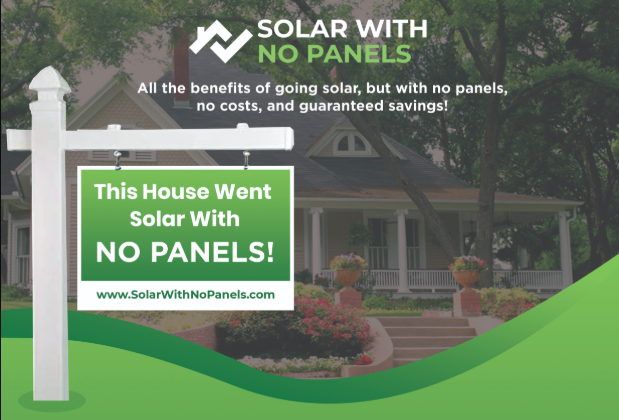 Community Solar Is For Everyone!
Thousands of people every year are deemed ineligible for traditional rooftop solar for any of the following reasons:
They rent

They can't afford them

Their credit is too low

Their roof is in poor condition

Their roof is too small

Their roof is facing the wrong direction

Their roof is too shaded
Finally, a way to get all the environmental benefits of renewable energy without modifying your home or making complicated electric installations! With Community Solar- ownership, income, credit, and roof condition are no longer factors! The only people who aren't eligible are those who are with a utility company that doesn't participate.
Community Solar Helps The Environment!
According to the Environmental Protection Agency, (EPA), the average utility customer who enrolls in a Community Solar project will benefit the environment the same as any of the following, EVERY YEAR FOR THE NEXT TWENTY YEARS!
Taking 2 cars off the road (emissions)

Not driving 22,000 miles (emissions)

Not consuming 1,000 gallons of gasoline (emissions)

Not burning 10,000 lbs. of coal

Not consuming 20 barrels of oil

Recycling 390 trash bags full of waste (instead of landfill)

Planting 150 trees

Enrolling in Community Solar is Equivalent to...
Recycling 390 trash bags full of waste
Not driving 22,000 miles (emissions)
Community Solar Is Changing Lives!
"We decided to go solar, but two companies told us we weren't eligible because our roof was too shaded and facing the wrong direction. When we heard about Community Solar, we thought it was too good to be true. After looking into it, we eventually enrolled. Now we're so glad we didn't pay to have panels put on our roof!"

Chris and Leah M.

"I'm always looking for ways to help the environment, but as a renter, I knew going solar wasn't an option. When I learned about Community Solar, I was blown away! Now just about everyone can go solar!"

Laurel S.

"Some friends were telling us they found a way to save money on their utility bill. We were skeptical at first, but after doing our homework, we saw no downside. Then we found out we'd also be helping the environment. Pretty good deal if you ask us!"

Sam F. and Madi P.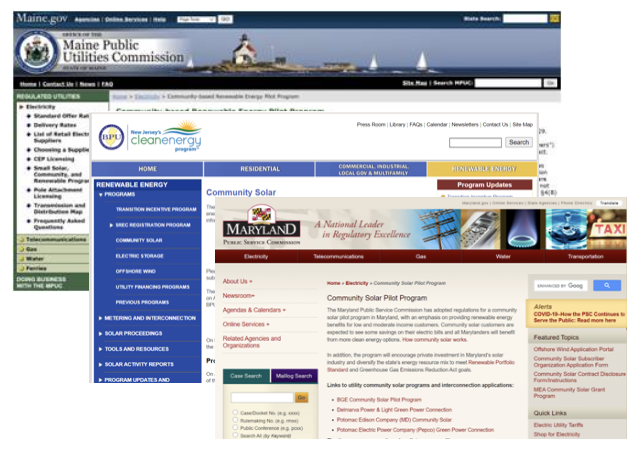 Community Solar Is A State-Run Program!
Many states offer tax and/or solar credits to utility customers who have solar panels installed on their roof. Community Solar is a way for states to offer renewable energy options to those who rent, don't have the income or credit, or don't have a suitable roof!
Community Solar Works With The Utility Company!
Participating utility companies allow solar credits to be applied directly on your utility bill, offsetting your balance every month for 20 years!
These solar credits have nothing to do with your rate or your energy supplier! Therefore, even if you've chosen a 3rd-party energy supplier, you can still participate in Community Solar and it won't affect your energy supply contract!
Eligibility For Community Solar Is Based On Availability
Does your state participate in Community Solar? How about your utility company? Are there any projects in your utility market that have available capacity?
Each solar farm has a limited amount of capacity available and can therefore only accept a limited number of utility customers. When a solar farm fills up, utility customers are placed on a waitlist until the next solar farm is open for enrollments. Click on the blue button below to find out if you're eligible to participate!
Finding Out If You're Eligible For Community Solar Is As Easy As 1-2-3!
Community Solar is currently only available in a handful of states, with more and more states coming on. Similarly, solar farms fill up, and new ones become available all the time. To find out if there is an available solar farm in your utility market:
1. Fill out the form on the right and click the orange button underneath.
2. You will see a list of available projects. You may click on your utility market to begin the enrollment process.
3. Whether you decide to begin the enrollment process or not, one of our Community Solar Advocates will reach out to you to discuss your options and answer any questions you may have!
Why are some states promoting Community Solar?
Many states offer significant tax incentives and credits to consumers who are willing to invest in solar energy. But, most consumers can't go solar! Community Solar allows more consumers to participate to the environmental benefits of choosing renewable energy!
What about my billing? Will anything change?
As a subscriber, you'll continue to receive your monthly electricity bill from your utility company. Your share of solar credits will automatically show up on your utility bill as credits, lowering the balance you owe to your utility company. And you'll pay that balance to your utility company just as you always have.
About a month after receiving your utility bill, you'll receive a statement from the subscriber organization with the amount of solar credits that was applied to your utility bill, as well as the discounted amount you paid for those credits.
Where does my savings come from?
It comes from the difference between the solar credits applied to your utility bill and what you pay for those credits! And that difference is guaranteed to be 10% – 30% every month for 20 years!
Why do I have to enter a payment method when I enroll?
The subscriber organization will make sure your solar credits are applied directly to your utility bill well before processing your payment for those credits.
Having your payment method on hand makes it easier and more certain for the subscriber organization to get paid. It also makes it easier for you! This way you don't have to worry about making a separate payment each month for your solar credits!
What if I'm currently contracted with a third-party electricity supplier?
No problem! Subscribing to a Solar Community does not affect any agreement you have in place with a third-party electricity supplier.
Many Community Solar subscribers intentionally choose a green energy supplier to further reduce their carbon footprint!
Oh, and the guaranteed savings from Community Solar… They're in addition to any savings you may experience from your supplier!
Why does it seem like there's an urgency to become a subscriber?
You should never feel pressured to become a subscriber.
However, there are a few reasons to decide it as fast as possible.
1.There are a limited number of enrollment opportunities available in each utility market. Because of the benefits, solar communities typically fill up quickly.
2.The sooner you enroll, the sooner you start helping the environment!
3.The sooner you enroll, the sooner you start saving!
When all solar farms in your utility market are full, you'll be enrolled onto a waiting list. Those on the waiting list will be the first enrolled when the next solar farm becomes available.
How much can I save, and how is it determined?
Once you subscribe, you are eligible for a guaranteed 10% savings. Some Community Solar projects offer more significant percentage savings to subscribers who can verify what the state determines to be a Low or Moderate Income (LMI).
What is LMI?
LMI stands for Low or Moderate Income and is the state's way of helping those who qualify to receive more significant percentage savings with Community Solar.
Not every project offers additional LMI savings, and eligible customers must verify their previous year's income.
What if I move?
If you move within the same utility market, you may transfer your benefits to your new residence!
If you move outside of your utility market, you will have to cancel your current enrollment and re-enroll in a solar farm in your new utility market.
We will help you find you find a Solar Community in your new utility market!
What if I'm renting?
No problem! The only requirement is that you get a utility bill!
What if my roof is shaded or not in good condition?
With Community Solar there are no panels to install! Therefore, the condition, size, direction and shading of your roof don't matter!
Are there really no costs? What if I decide to cancel?
There are no costs to enroll and no costs to cancel! If you change your mind (we can't imagine you ever would), simply notify us of your decision, and we'll begin the cancellation process. Just like subscribing, canceling may take 2-3 billing cycles for all the parties to process the paperwork.
Do you have a referral program if we know people who are interested in Community Solar?
We do! To learn more about earning money with our referral program, simply ask the Community Solar Advocate who helped you enroll or visit join.communitysolar.com!